Campus
How to Report Racism on Campus
Heriot-Watt University are committed to recognise and stand up to racism in all its forms.
We do not hide from the fact that racism exists in our communities and on our campus and are actively working to create an anti-racist culture. No one living on campus should have to tolerate racist behaviour.
Here at ResLife, we want to make sure that should you be a victim of racial harassment, or witness a racially motivated incident, you know what to do, and what support is available to you.

I have been a victim of racial harassment or a racially motivated incident – what do I do?
We strongly encourage you to seek support. You can do this by
Contacting ResLife (by email – reslife@hw.ac.uk), or by dropping into the Hub in Christina Miller West.
Contacting Student Wellbeing – you can make an appointment through the myHWU app or email studentwellbeing@hw.ac.uk
Contacting Rev. Alistair Donald, the chaplain, by contacting chaplaincy@hw.ac.uk. Note that Alistair will provide support to all students on campus equally, regardless of religious belief.
Reporting the incident to Safeguarding (0131 451 3500, or through the SafeZone App). Safeguarding can provide an immediate response to an incident, with follow up support referred to Student Wellbeing and ResLife.
Speaking to a staff member you trust, for example, your academic supervisor, tutor, or lecturer. All staff have a duty to take action on reports of racial harassment.
When you seek support, the options available to you will be explained, following which you will be given time to decide how you would like to proceed. If you seek support from ResLife, the following options will be explained:
You may wish to resolve the matter informally – without a formal report made. ResLife can help you make a plan of what to say if you wish to speak to the individual yourself, to let them know their actions, words or behaviour were not acceptable and should not be repeated. Alternatively, ResLife can mediate a meeting where the incident can be discussed. This route may be most appropriate if the incident arose due to ignorance on different cultures and did not arise due to hate.
In more serious cases, a formal approach would be more appropriate. This involves making a formal report which is then referred to the Student Conduct Team. If you wish to take this route - and it is encouraged in serious cases – ResLife will refer you to a Harassment Advisor, who will then support you as the case is handled by the Student Conduct Team. Support is still available from ResLife and the Wellbeing Team while the case is investigated.
For further details on the University procedure for handling cmplaints of harassment, including racial harassment, please see https://www.hw.ac.uk/uk/students/doc/anti-harassment.pdf
I want to report an incident, but do not wish to be named, what do I do?
Anonymous Reports can be made via the myHWU app. If you navigate to the menu on the left-hand side, click on "Safeguarding Services", then on "Report It" you can make an anonymous report. Or this link brings you to the same page: https://www.hw.ac.uk/uk/services/safeguarding/report-it.htm
However, we please encourage, where at all possible, that you speak to someone as detailed above. This is so that we can give you support and also it enables more action to be taken on the incident. Confidentiality will be maintained at all times and will not be disclosed to other students without your permission.
I witnessed a racist incident – what should I do?
If the incident is ongoing, call Safeguarding immediately. They will attend within 4 minutes to de-escalate the incident and report it. Following this, ResLife and Student Wellbeing will contact and support the affected students.
If the incident has passed, notify ResLife, Safeguarding or Student Wellbeing of what you witnessed. The appropriate team can then take action to provide support to the involved students or make a formal report as required.
If you have any concerns or questions regarding these procedures, please email reslife@hw.ac.uk and we will be happy to help.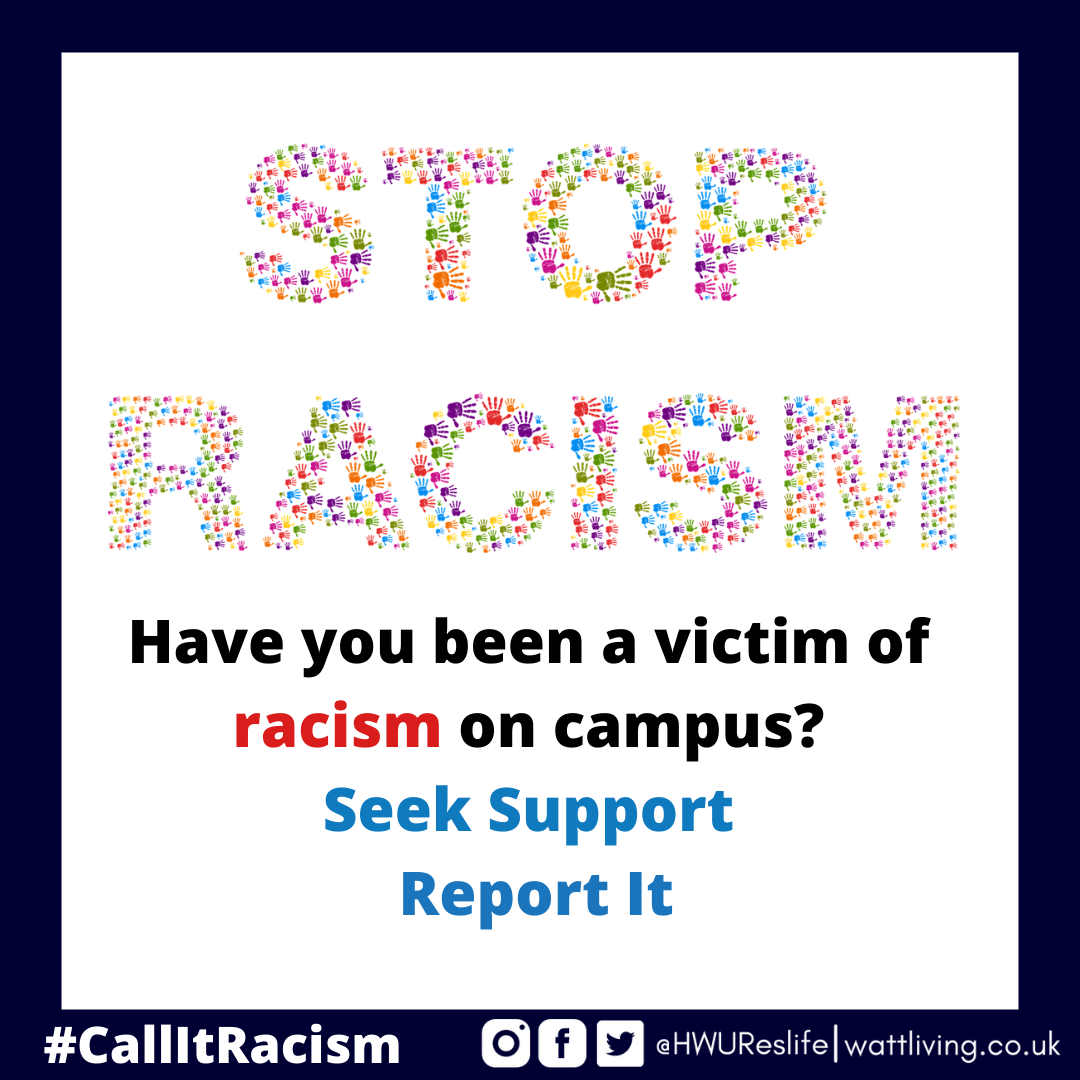 Topics