Campus
Safety & First Aid - SafeGuarding Services
Heriot-Watt SafeGuarding Services provide a vital role in safeguarding the University's population, assets and reputation 24 hours a day, 365 days a year.
Our SafeGuarding Officers are First Aid and Mental Health trained and will the first responders to any incidents occurring on campus.
We strongly encourage all students to download Safezone to access SafeGuarding Services. Safezone is a free App that allows you to receive emergency help, first aid or other assistance causing you immediate concern (such as excessive noise, disturbances, fire, health and safety) with the touch of a button! 

You can download, register, and view more information about this great tool by visiting:
https://www.hw.ac.uk/services/safeguarding/safezone.htm

The App has 3 main functions:
First Aid
If you or someone else requires medical assistance in Halls press the green 'First Aid' button in the App (this can be cancelled if done in error by tapping the button a second time). Once the alert is sent, your location will be displayed on the map for Safeguarding Officers to see and locate you. The Safeguarding team may ask for additional information to best help you.
Enquiries


A general enquiry is a non-emergency and does not require immediate attention. Please use this blue button if you have a general question or concern about safety and/or security that is not urgent.



Emergency


If you or someone else require immediate assistance because you feel concerned for your safety or health, use this red button on the App. As with the First Aid Feature, double press to cancel and be prepared to provide Safeguarding with additional information about the emergency.
The App also provides manual and automated check-in features if you are working alone, entering a high-risk environment, or on-campus outside normal hours as additional security protection if you feel it required.
In addition to the Safezone App, red wall phones are located within each Hall to contact Safeguarding directly for free if required.
Email: safeguarding@hw.ac.uk
Phone: (+44) 0131 451 3500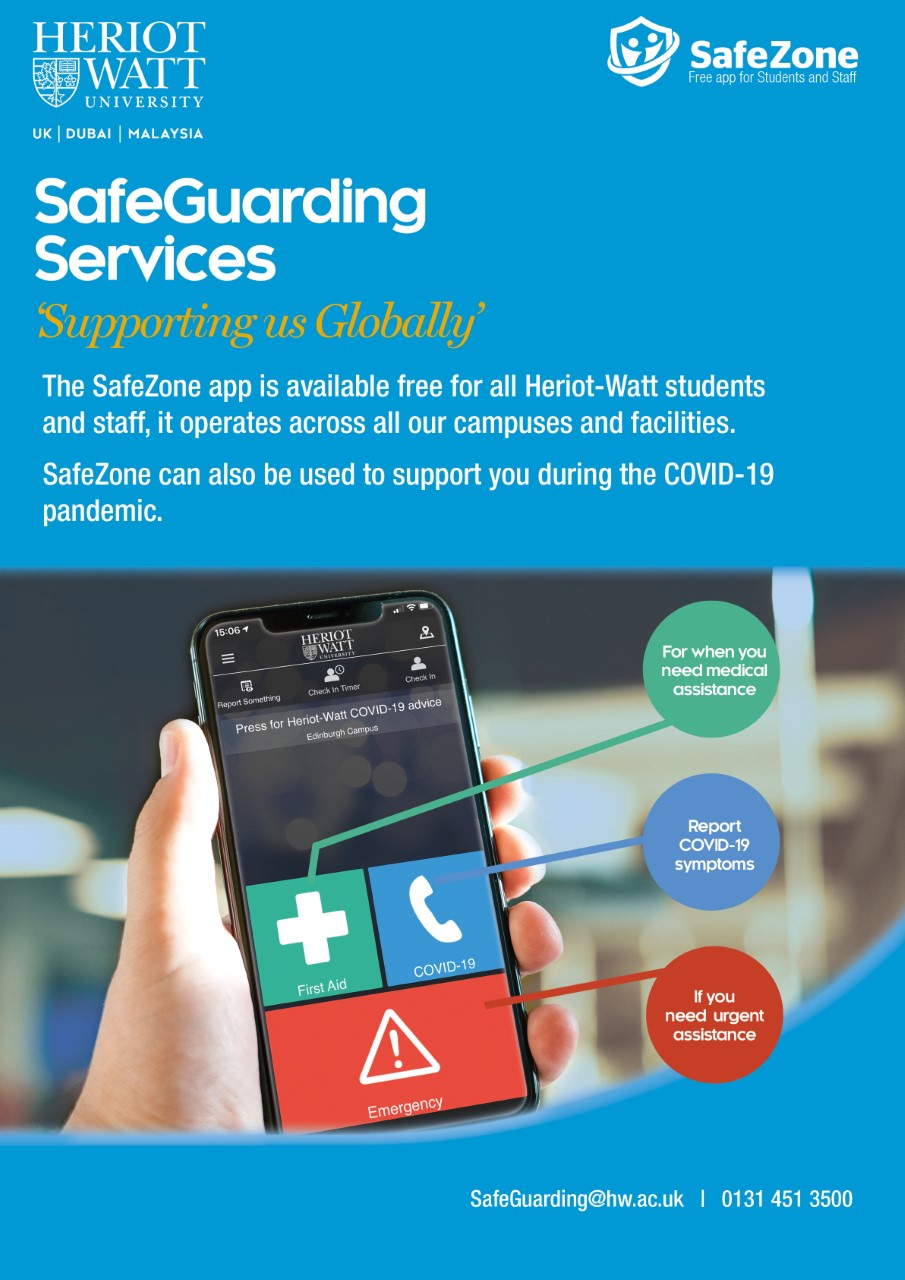 Topics